Why Use Cats@Home Services?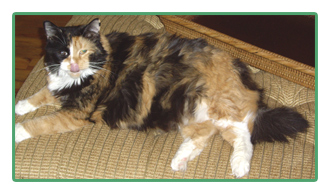 Although a useful option for some animals, boarding leaves your cats alone for extended periods of time in unfamiliar and cramped surroundings. Attention can be very limited and risks of spreading disease and parasites high.
Using a friend or neighbor to cat sit can also lead to problems should emergencies arise. Are they trained to provide medical care for animals? Are they insured should something happen in your home?
Using Cats@Home, LLC alleviates these concerns so you can enjoy your vacation or focus on your work without worrying about the health and care of your cats. More importantly, it makes your absence less stressful for them.
Call or E-mail Us Today for a
Free
Consultation and Pet Introduction Meeting!
Please Check
Our Service Area Page